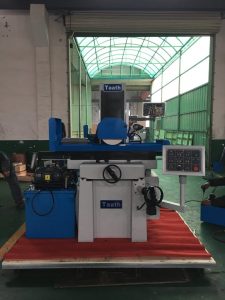 Year of production: 2021
Table: 600 x 300 mm
Max. table motion: 630 x 320 mm
Table speed (m/sec): 3-20
Cross driving on wheel (mm): 0,02/grade 4/round
Speed of cross driving (mm/sec): with interruption 0-6, continuously 600
Vertical driving on wheel (mm): 0,01/grade 1,25/round
Speed of vertical driving (mm/sec): 360
Disc dimensions: Ø 300 x 30 x 76,2 mm
Spindle speed (60Hz): 1680 rpm
Spindle motor: 2,2 kW
Hydraulic motor: 2,2 kW
Pressure: 4 mpa
Oil tank capacity: 100 l
Machine dimensions: 1960×1480×1850 mm
X-axis driving: hydraulic
Y-axis driving: engine
Z-axis: engine
Machine weight: 1530 kg
Standard accessories:
tool kit
balancing pillar, balancing rod
chuck wrench
screwdriver
balancing screws
spanners
Allen key
stone puller (stone regulator)
diamond regulator
machine feet
grinding wheel
magnetic table
2-axis digital encoder system
machine lights
manual
PROMOTIONAL STARTING PRICE: 14.

900,- EUR + VAT (including 

electromagnetic table, magnetic separator, additional chucks)
We provide 12 months guarantee for the machines as from the installation. CE certification: the machines have a work, accident and health qualification certified by the European Union.
Inquiry for further information: